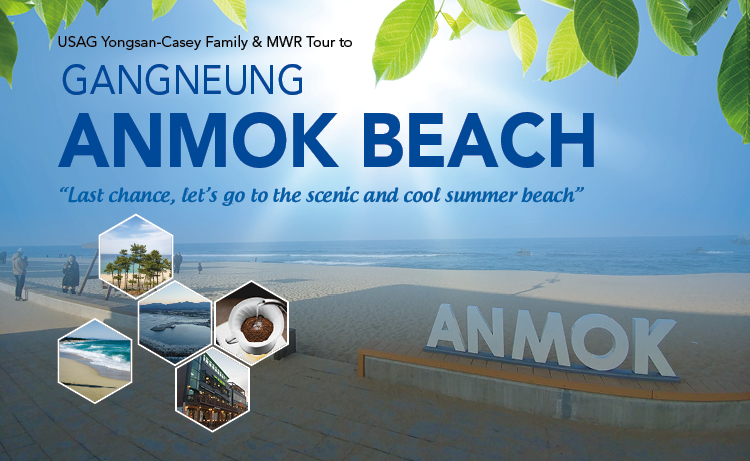 Tour to Gangneung Anmok Beach
Date: Aug 29 2020, 6:30 a.m.
Yongsan Soldier Recreation Center - USAG Yongsan, South Post Bldg. 4275 AP 96204 Google Map
"Last chance, let's go to the scenic and cool summer beach"
Gangneung Anmok Beach spans over 500 meters in length and covers an area of 20,000 square meters. The beach is often packed with families on a vacation. Right in front of the beach is Anmok Port, where around 23 fishing boats can be moored to unload their catch of seaweed in the spring; flatfish, squid, octopus in the summer; and sailfin sandfish, and pollack in the fall and winter. The place has also become more popular since the main street along the beach earned a reputation as a "coffee street."
Minimum 20 participants required.
Sign-up deadline: Wednesday, 26 August
Please bring your own lunch or Korean won for lunch / Snacks.
Bus Schedule
Yongsan Soldier Recreation Center: 0630
Return at site: Approximately 1600
*It takes about 4-1/2 to 5 hours by one way depending on the traffic situation
For more information, call 723-3291 (Yongsan Leisure Travel Services)
Cost
Cost: $30 includes Transportation & Entrance Fee
Registration Info
Sign-up at Yongsan Soldier Recreation Center or call the contact number.
Contact